Evaluation of safety distance for the horizontal installation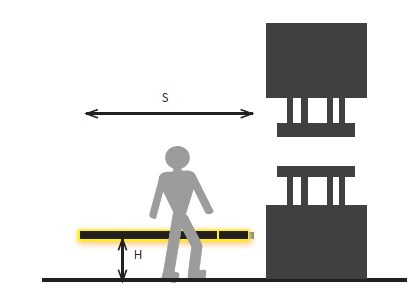 The standard formula: S = KxT + C, where


S = (1600 x T) + (1200 -0,4 x H)


C = (1200 – 0,4 x H), cannot be lower than 850mm


H = 15 x (d – 50) is the height of the safety field from the working plane, e.g. the floor.

The maximum allowed height "Hmax" of the security field is 1000mm, while the minimum allowed height "Hmin" of the security field is 0mm.
The required barrier resolution can be calculated using the inverse formula: d=H / (15 + 50)
When using a photoelectric barrier on the ground to guard an entrance, the photoelectric barrier must have a depth of at least 750mm, to avoid accidentally stepping on it.
The evaluated safety distance must be measured from the dangerous parts of the machine to the farthest (from the machine) beam of the photoelectric barrier.